Unsurpassed Reliability With Competitive Pricing!
We've built our business on one simple idea: Make every client happy. To do this, we work day in and out to provide our clients with the highest level of service, reliability, and unheard of pricing.

As a homeowner, it's comforting to know that our commitment to quality and customer service has earned d-7 Roofing the designation of preferred service provider with the largest roofing material companies in the country, as well as earning accreditation from numerous roofing and independent quality review organizations.
Top Certifications
We are a preferred service provider for leading roof manufacturers, including Owens Corning, Tamko and other major roofing manufacturers. We also are certified by numerous organizations, such as the National Roofing Contractors Association (NRCA), the Colorado Roofing Association (CRA), and the Better Business Bureau (BBB) where we carry an "A" rating.
Extensive Experience
With over 25 years of experience, we've seen every pitfall out there and learned to avoid them all.  Systematized planning, staffing, and material sourcing ensures that your project stays on schedule and under budget.
Builder Approved
We work with some of the largest tract home builders in the nation, as well as every major general contractor in Colorado.  We have built these partnerships because these large companies and builders have seen that we deliver quality work on every project.  We deliver this same top quality service to each and every homeowner.
---
Competitive Pricing
Our enormous volume and long term relationships with manufacturers create efficiency and costs savings that we pass on to homeowners.  We pride ourselves in delivering the highest level of service at the most competitive prices in the industry.
As a homeowner, you need a firm you can trust.
You need a firm that works with your insurance.
You need great prices.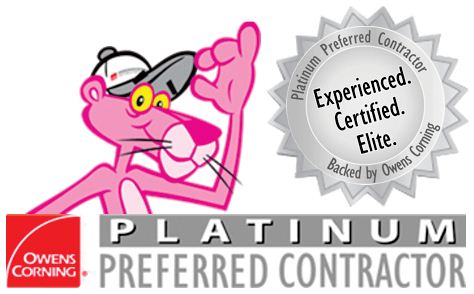 Owens Corning Platinum Preferred
Of the 63,755 licensed roofing contractors across the United States, less than 200 are Owens Corning Platinum Preferred. Why?
Simply put: it is hard, hard work to earn the designation. This invite only program requires contractors to meet, and continue to uphold, very strict requirements. These contractors represent less than 1% of the industry and are the only contractors who can offer the Platinum Protection Roofing System Limited Warranty.
d-7 Roofing is proud to be one of only a few Platinum Preferred Contractors in Colorado and to be able to pass on savings and increased warranty benefits to their clients.
Experienced & Certified
Our team is dedicated to the highest level of customer service. 
These awards, ratings, and certification reflect our commitment.
Owens Corning Platinum Preferred
BBB (Better Business Bureau) "A" rating
Technician Seal Of Safety
Colorado Roofing Association (CRA)
National Roofing Contractors Association (NRCA)
Preferred Provider status with suppliers
GAF/Elk Preferred Installer
Certified Installer – National Big Box Retailers
Certified Small Business Enterprise
Environmental Protection Agency (EPA) Lead-Safe Certified Firm
Residential Roofing Types
What makes us different?
We offer industry leading pricing, reliability, and service.