Competitive Pricing With Unsurpassed Reliability
We've built our business on one simple idea: Make every client happy. To do this, we work day in and out to provide our clients with the highest level of service, reliability, and unheard of pricing.

We can achieve this because our company size and our extensive experience creates huge savings, which we then are able to pass on to our clients.  We specialize in working with builders and contractors, and we pride ourselves in providing them with the most competitive pricing in the marketplace.
High Volume
We work with some of the largest tract home builders in the nation. This enormous scale in material orders, roofing labor, and corporate overhead lowers our cost per project, creating savings we pass on to our clients.
Long Term Relationships
The relationships we have established, maintained, and steadily grown over the years with our roofing material vendors and suppliers create enormous cost savings that we in turn pass on to our clients.
LEAN Production
We've implemented a LEAN production approach which allows us as a company to run at a lower cost, by using (and wasting) less and staying more productive and efficient. This additional cost savings is again passed on to our clients.
Extensive Experience
With over 25 years of experience, we've seen every pitfall out there and learned to avoid them all.  Systematized planning, staffing, and material sourcing ensures that your project stays on schedule and under budget.
We specialize in tract work & commercial multi-family development.
We work with every major GC in Colorado.
Our high volume means lower prices for you.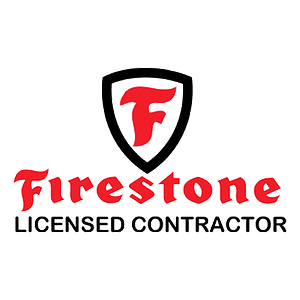 Firestone Approved
D-7 Roofing is proud to be an approved contractor, applicator, and installer for Firestone low slope roofing products.
We are among an elite group of less than 20 Firestone approved Contractors throughout the entire state of Colorado.  Firestone awards this designation based on a company's consistent installation excellence and commitment to quality craftsmanship.
With these credentials, our experienced roofing professionals can assist with Firestone low slope roofing products such as EPDM rubber (ethylene propylene diene monomer) and TPO (Thermoplastic PolyOlefin) on your next commercial or residential project.
Experienced & Certified
Our team is dedicated to the highest level of customer service.  These awards, ratings, and certification reflect our commitment.
Owens Corning Platinum Preferred
BBB (Better Business Bureau) "A" rating
Technician Seal Of Safety
Colorado Roofing Association (CRA)
National Roofing Contractors Association (NRCA)
Preferred Provider status with suppliers
GAF/Elk Preferred Installer
Certified Installer – National Big Box Retailers
Certified Small Business Enterprise
Environmental Protection Agency (EPA) Lead-Safe Certified Firm
Recent Commercial Projects
What makes us different?
We offer industry leading pricing, reliability, and service.